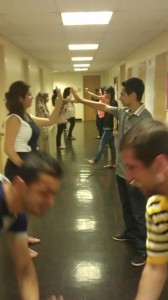 The Assignment brief:
To Organize and Implement was a workshop of five days on children's activities, organization and implementation skills and other tools, followed by a one month of coaching in designated activities happening in the greater Beirut area.
The second cohort of 14 Scholars of  The MasterCard Foundation has joined FHS in fall 2013- 2014. Since their enrollment,  scholars  have been engaged in many capacity building activities that are needed to mobilize and communicate with the communities; such as training on life skills & practical skills and carrying out field visits to various governmental, non-governmental and International organization.
During the summer of 2014, the scholars will be engaged in a 4 weeks community engagement project in partnership with a local NGO (Movement Social), through working with disadvantaged Lebanese youth and children of Syrian refugee families.
In order for the scholars to be engaged in an active and effective community intervention project, they will undergo a five day training program on children's and youth's animation skills prior to starting their work in the field (at the educational and social clubs of the Social Movement Association). Preparing the students, before implementing their community intervention project, and building their capacities in managing and dealing with youth and children from under privileged areas, is believed to enhance their leadership skills.  The scholars will be trained on dealing with conflicts that might arise among the youth, resolving conflicts between the animation team members, leading a group made of youth and children and carrying out non formal education activities.