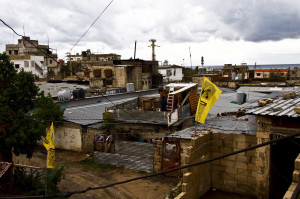 The housing conditions within the Palestine refugee camps in Lebanon are well documented to having hazardous infrastructure, including lack of adequate drinking water, leaking sewerage pipes, deteriorated and congested roads and alleyways; despite the ample necessities to be addressed, the most identified need within these communities has been access to sufficient amount of potable water.
For that, on the 1st of October 2011, the United Nations Relief and Works Agency (UNRWA), and with a generous support from teh Swiss Development Agency, initiated infrastructural improvements and implemented water intervention projects within the seven of the worst affected Palestine refugee camps (Shatila, Burj el-Barajneh, Mar Elias, Dbayeh, Beddawi, Mieh Mieh and Wavel camps) through the project entitled "Remediation and Upgrading of Water Supply Networks in Seven Palestinian Refugee Camps in Lebanon".
…For Development, c.c. and Connecting Research to Development were given the task of evaluating what has been accomplished in 2011. In the evaluation, they will assess the project's results in terms of effectiveness, efficiency, sustainability, relevance, and impact for the defined hierarchy of objectives.
On top of that, they will also appraise the quality of the project from its identification, planning, preparation and implementation, to its completion.